It's here! Maryetta's Annual Scholastic Bookfair ! Monday-Friday Oct 2-6; Tuesday night friends and family until 6:30; donuts with a grown up - Thurs morning beginning at 7:30am, and bring a "grand" Friday- invite your grandparents to visit the fair with you! Can't wait to see you there!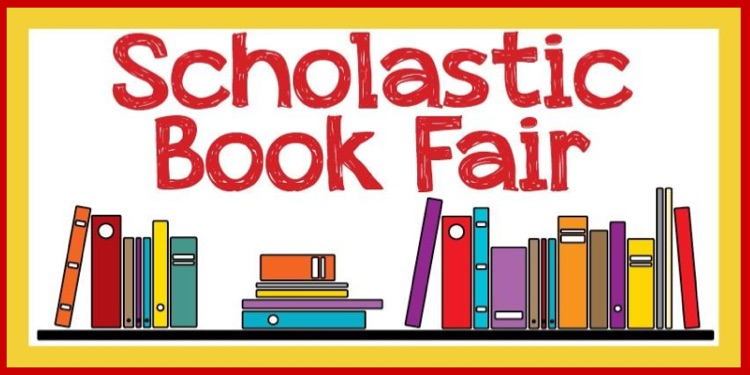 It has been a busy week for our career classes. We want to thank Hunter Stevens and Cole Adair from Ozarks Electric and Alicia Whiteley from Replenish Me Hydration for coming in this week to speak to our class about their chosen careers.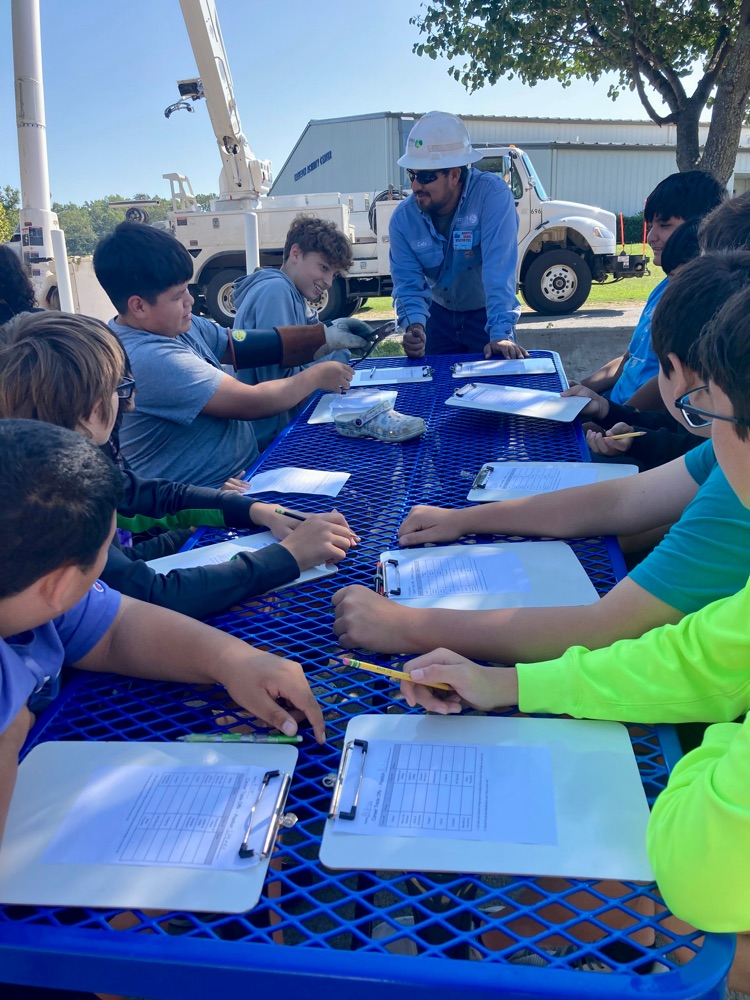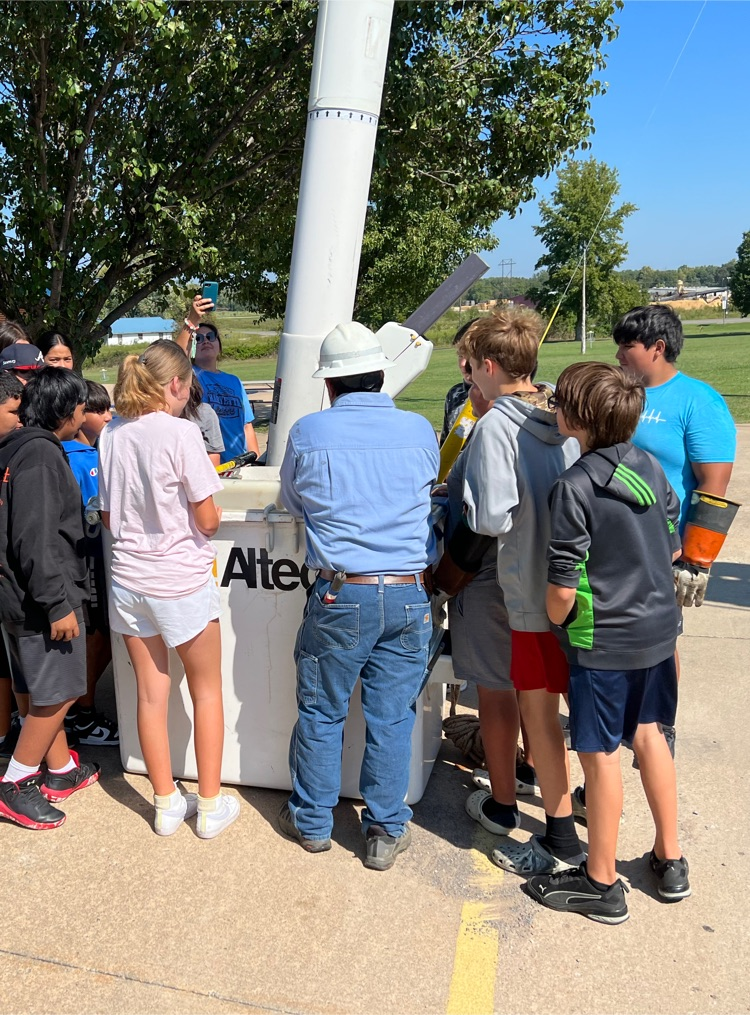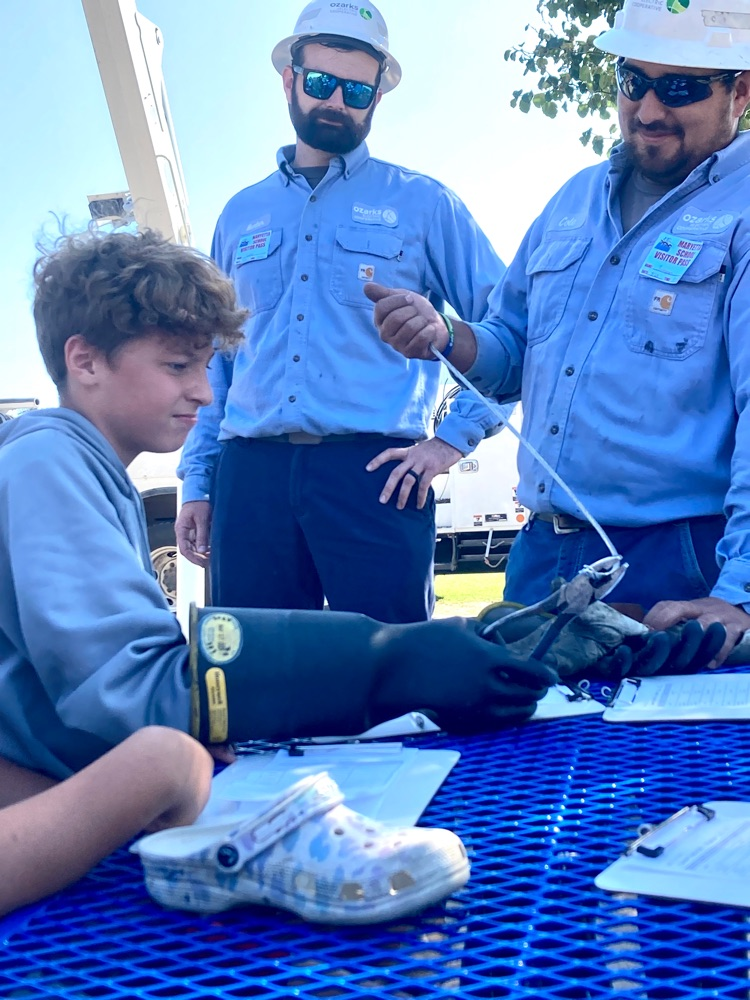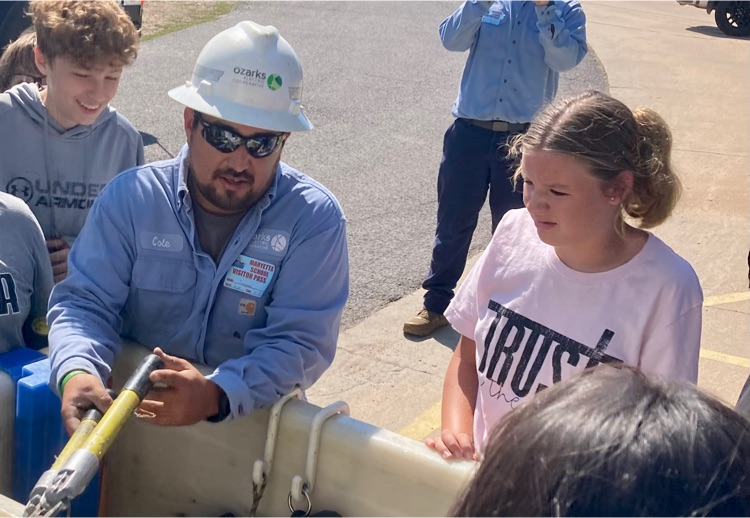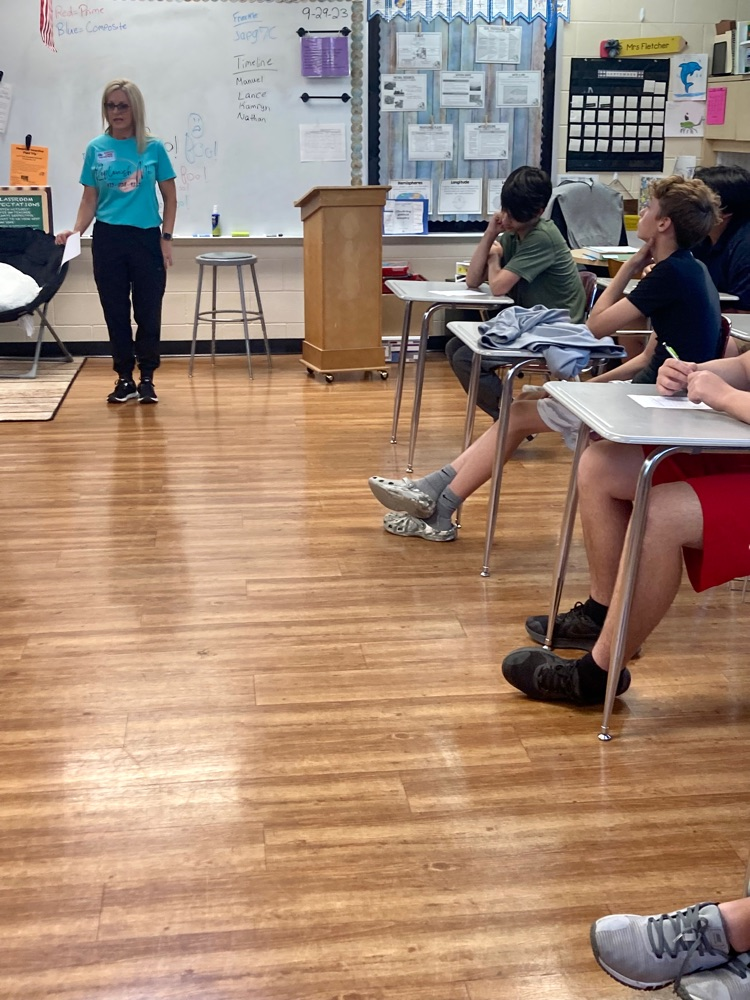 SPORTS PICTURES Ruth Kelly will be at school tomorrow, September 27th, to take pictures for Football, Softball, Cheer, and Cross Country. Please remember to BRING YOUR UNIFORM AND SHOES! Cross Country, please try to wear a Maryetta shirt if you can.

The cross country meet tomorrow will be in Tenkiller at Cherokee Landing. This will be for the 3rd-8th grade cross country participants. The bus will leave at 8:45 in the morning, the first race starts at 10:00 in the morning with the third grade girls.

Weekly Events!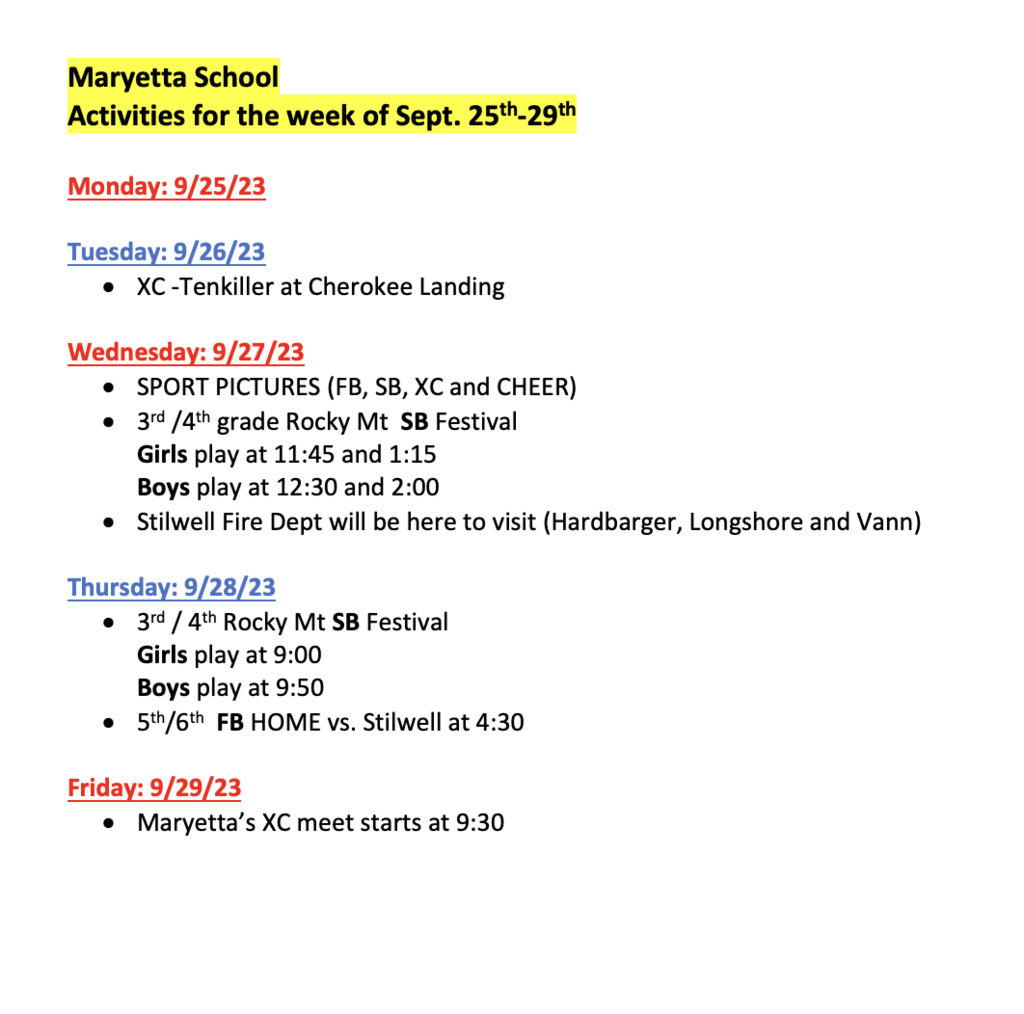 After a rough start this morning, the Lady Raiders battled back to finish 4th in the ORES State Softball Tournament. The ladies took a tough loss to South Rock Creek to end the season. Great job ladies, we are very proud of you!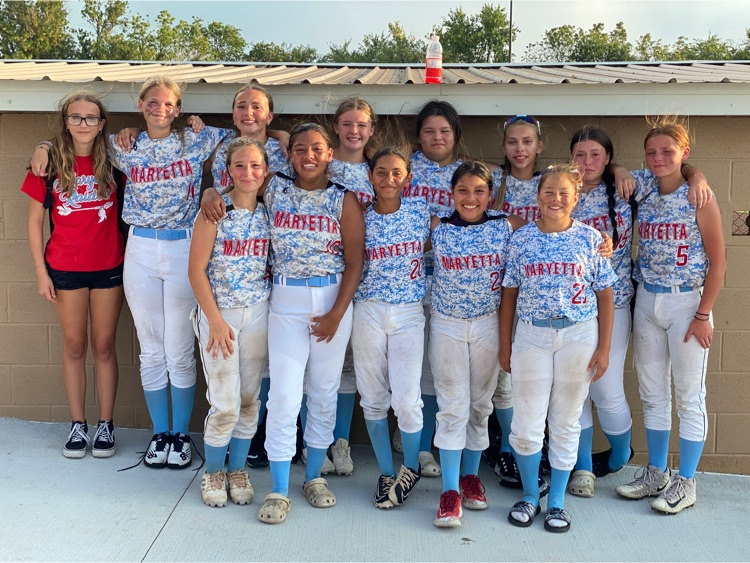 The 7/8 grade girl's Softball team will travel to Shawnee tomorrow for ORES State Play. They have moved us to a new Softball Complex. This year we will be playing at Fire Lakes Softball Complex. The address is 18160 Rangeline Rd, Shawnee, Ok. We will leaving from the Activity Center at 6:30 in the morning. We will provide breakfast, lunch, and HOPEFULLY dinner! Our return time is still to be determined. You may want to send money with them for concession. They will also have ORES State T-Shirts for sale for $15. Please make sure that the girls pack and bring everything with them in the morning. Thank You. Coach Littlefield
The 3rd grade softball game scheduled for today against Westville , has been cancelled. The field is too wet for the game to be played.
The 4th grade softball game for tomorrow, September 21st, with Stilwell has been CANCELLED. The field conditions are too wet for the game to be played.
Parents/Guardians, Due to unforeseen circumstances, The football game was cancelled on Thursday. I know this raises some concerns for Future Raiders Cheer. As of right now, a game is trying to be rescheduled for next week. However, if they do not get that done. We will move our Future Raiders Cheer performance to basketball season. I will make sure parents are kept up-to-date on any new changes. I will also be adding a practice for them to keep them fresh and ready to perform. Their cheer shirts have come in but I will hold on to those until performance day. Sorry for any inconvenience. Sincerely, Ms. Huval Mrs. Workman

The 7/8 grade Football game scheduled for Thursday Night September 21st with Sallisaw Central has been canceled. They said they did not have enough players due to injuries.

Congratulations to the 7th & 8th Grade Raiders on finishing 2nd in the Adair County Tournament! Great job gentleman!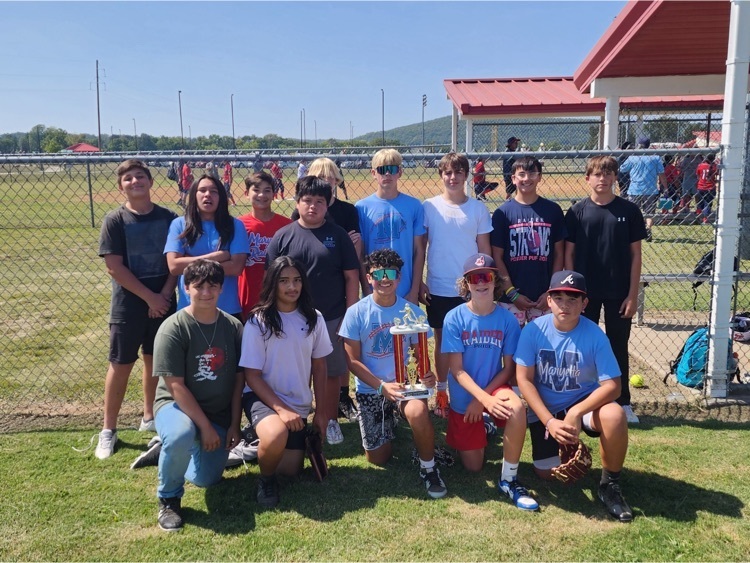 Congratulations to the Lady Raiders on finishing 3rd in the Adair County Tournament! Great job ladies!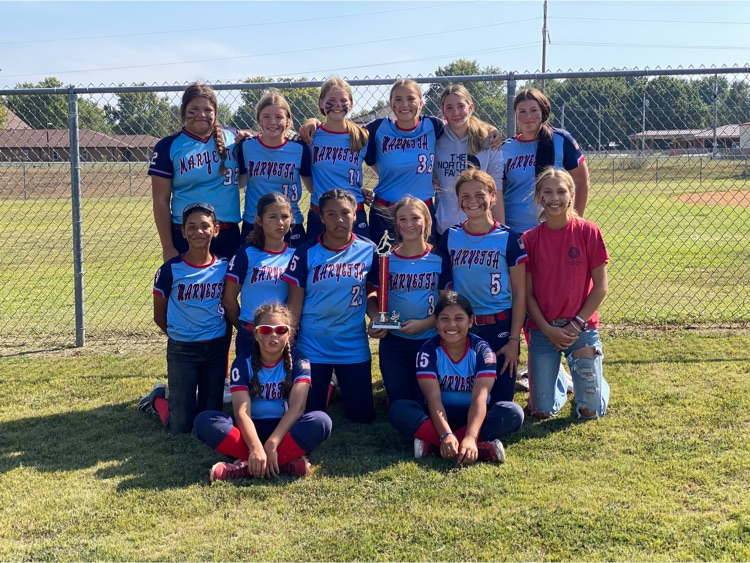 Weekly Events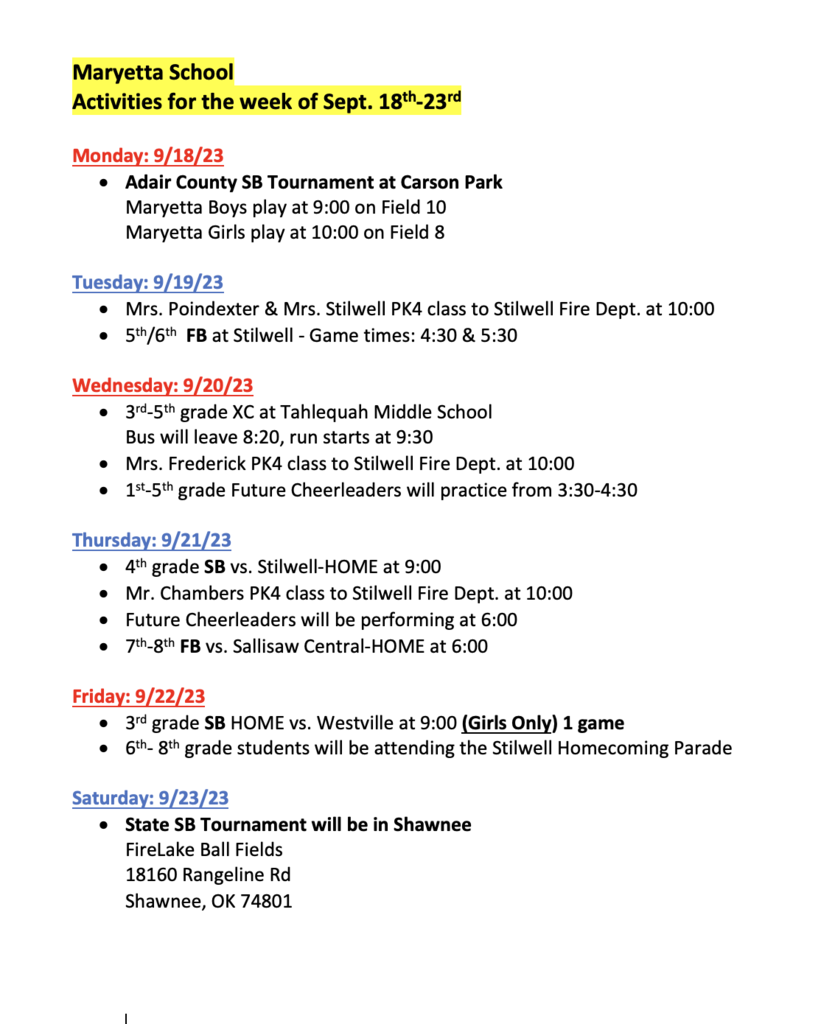 The Raiders of the Month for August, these students were caught displaying acts of kindness by our CARE team! Top row: Katelin Dandridge, Denver Bruner, Ayden Valle, Kaius Deere, and Nayeli Paz. Middle row: Fisher Chuculate, Zander Vann, and Alexis Chavez. Bottom row: Kahner Bunch, Stella Bovos, Kopelan Kirby, Adalynn Schultz, Ryder Buckner, and Meah Selman. Not pictured: Hannah Daugherty and Aubrey Neff. GOOD JOB RAIDERS!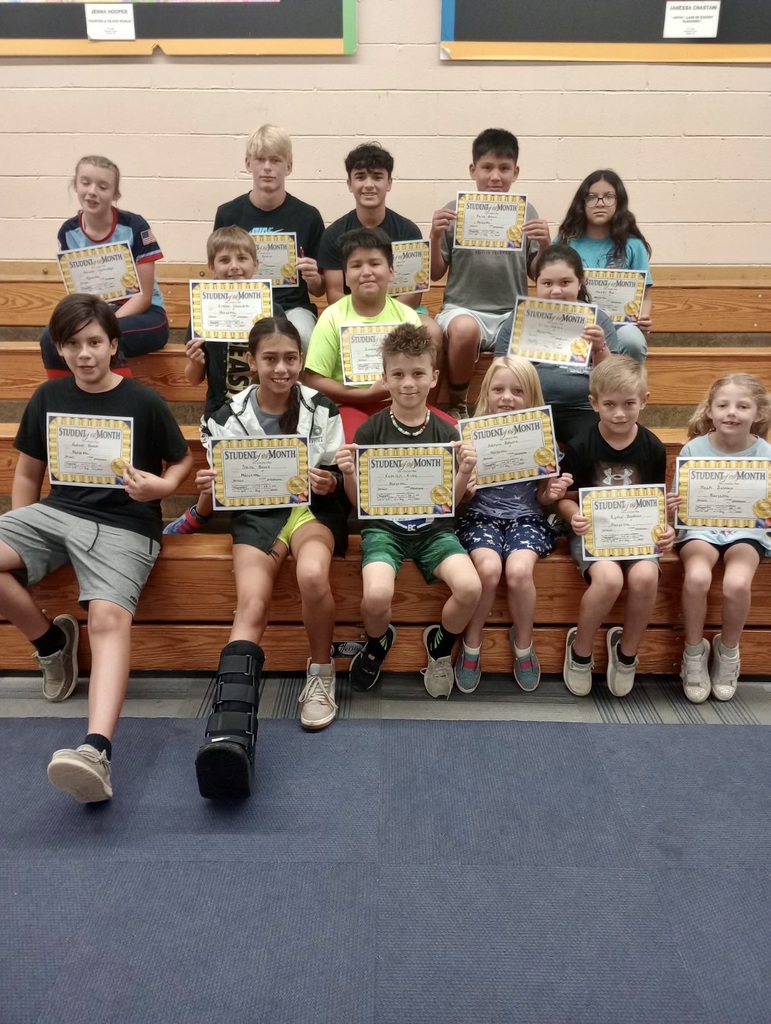 Attention Raider Fans— Tonight's 7/8 Football game against Justus Tiawah will be Live Streamed on on Maryetta Facebook! Go Raiders!!

The Adair County Softball Tournament will be held on Monday, September 18th, and will be held at Carson Park.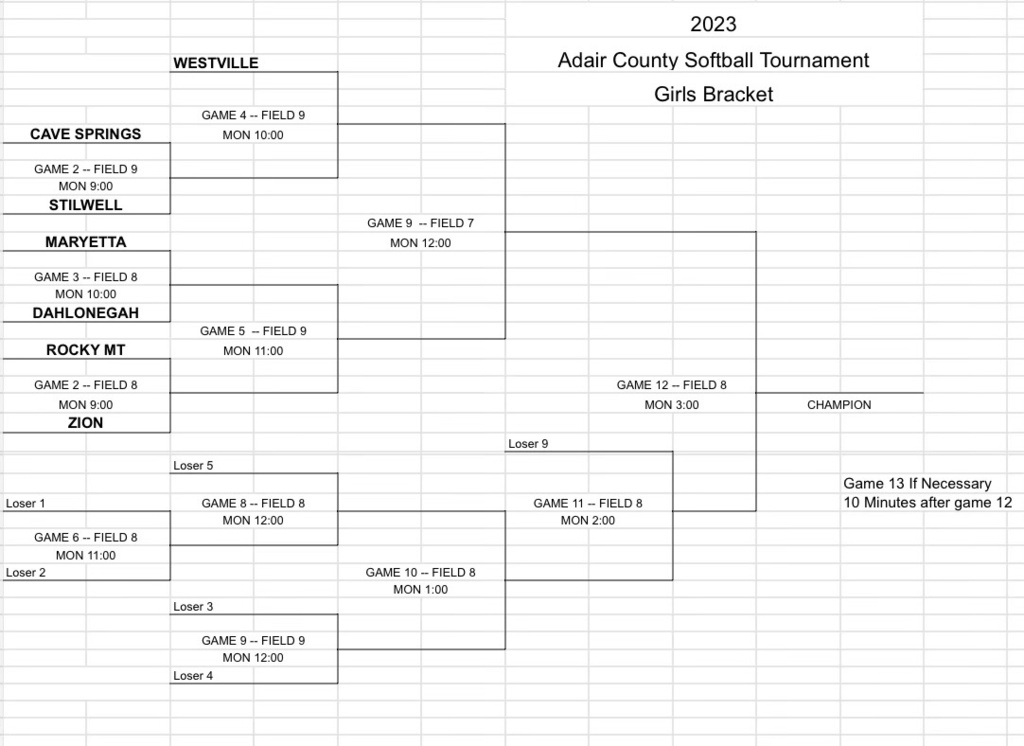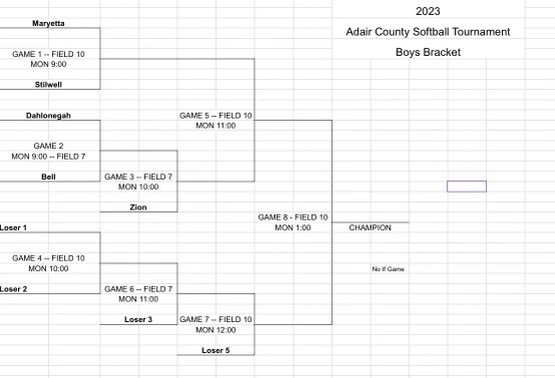 Tomorrow's 5/6, 7/8 games with Dahlonegah will begin at 1:00.